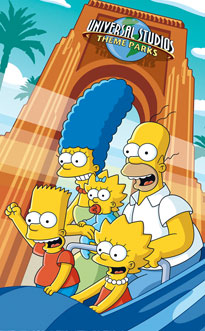 Universal Studios
Ashlee and Pete's wedding wasn't the only Simpsons event today.
The Simpsons Ride debuted at Universal Studios Hollywood with a yellow carpet premiere, a human cannonball stunt and plenty of celeb families looking to go for a spin with Homer and his family.
Los Angeles Mayor Antonio Villaraigosa even got into the act. "Today, my name is Mayor Quimby," he said, joining show masterminds Matt Groening and James L. Brooks and Simpsons alums Lisa Kudrow, Kelsey Grammer and Fred Willard for a day at the park.
Larry Birkhead showed up with Dannielynn, and actually showed some good parenting skills. "She's too little to ride, but I'm gonna go for it," he said.
Good choice, Larry, because the immersive motion ride is packed with twists and turns, Simpsons-esque puns and gags, a Pirates of the Caribbean spoof, a giant, radioactive Maggie and more, when Sideshow Bob sets out to sabotage the already shady Krustyland attraction.
The ride got a thumbs-up from everyone from the mayor ("I looooved it") to Hanna Montana costar Mitchel Musso ("It was trippy, crazy, awesome, unbelievable—all of that in one").
Even Mr. Burns would be hard pressed to disagree.
The ride, along with a similar attraction at Universal's Orlando branch, officially opens to the public on Monday. And from what we're hearing, Willard may still be there.
"I think I would be happier in cartoon land than in real life," said the Back to You star. "Everything's happier and more colorful. And if terrible things happen, you just bounce back. If you fall off a cliff you get right up. It all happens as birds fly over your head. It's great, isn't it?"