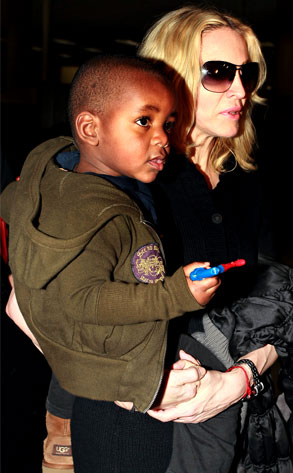 FAME PICTURES
Madonna's on-again, off-again relationship with the Malawi legal system is, for the time being, off-again.
The final ruling in her and Guy Ritchie's adoption of David Banda was expected to be rubber-stamped by the Lilongwe High Court today, but the hearing was once again delayed, though not, in a refreshing break from tradition, by request of the singer herself.
Although the Ritchies were not present for the hearing—an attorney for the couple confirmed earlier this week that both stars would be a no-show due to "other engagements"—the Malawian Human Rights Commission was present and accounted for in the form of a protest report lodged with the court.
Upon receiving the nonbinding filing, which called out various "shortcomings" in the nation's adoption laws and argued that approving the adoption would be illegal as would-be parents must reside in Malawi for at least 18 months, the judge postponed his final ruling until next week, pending his review of the document.
Madonna's attorney, meanwhile, is still expecting a positive ruling next week from the judge, telling reporters, "I'm confident that the adoption will go through, because my client has met all the requirements and the government is satisfied that she qualifies."
And if they need any more convincing, a few advance record copies and a handful of backstage passes are surely the best qualifications around.