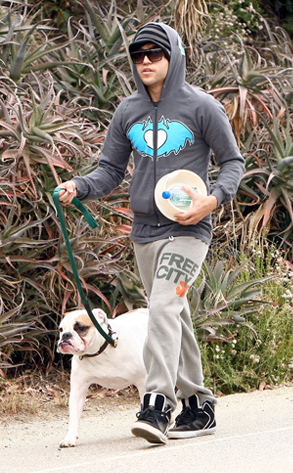 X17online
MAN'S BEST FRIEND: Armed with a water bowl, Pete Wentz, who is rumored to be getting married to Ashlee Simpson this weekend, taking his dog for a walk in L.A.
BIG DADDY: Chris Noth, shopping for baby products at Pavilion's in West Hollywood on the same day that Sex and the City premiered in London.
MOTHER OF ALL BRUNCHES: Charlize Theron, having Mother's Day brunch at Comme Ca in L.A. with her mom, stepdad and boyfriend Stuart Townsend.
BAND AID: A very pregnant Tori Spelling, picking up a Belly Bandit at the Silver Spoon Dog and Baby Gifting Suite in L.A. along with a men's Gita Manny diaper bag for hubby Dean McDermott.