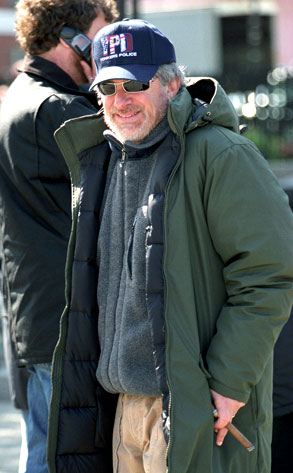 James Devaney/WireImage.com
Now that he's got Indiana Jones out of his system, Steven Spielberg is ready to get serious again.
While making the PR rounds for Indiana Jones and the Kingdom of the Crystal Skull, the Oscar-winning filmmaker announced he's cast his vote for his next feature project: an Abraham Lincoln biopic, which could start shooting early next year.
Per Variety, Spielberg has postponed production on The Trial of the Chicago Seven, about the tumultuous 1968 Democratic National Convention, because he was unable to get a polished script due to the writers' strike.
But he does have a solid screenplay for Lincoln from Angels in America playwright (and Munich scribe) Tony Kushner.
First up, though, is Tintin, the opening installment in a trilogy of movies he and Peter Jackson are making based on the popular European comic strip. Then Spielberg will tackle Lincoln.
The Civil War epic will star Liam Neeson, who agreed to play the fallen president three years ago and has been cooling his heels waiting for the green light. After that, Spielberg will choose between Chicago Seven or the top-secret sci-fi tale he's been prepping, Interstellar.