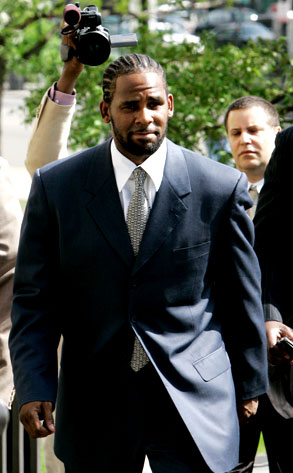 AP Photo/Charles Rex Arbogast
The time has finally come for R. Kelly to face the music, and by the look of things, he may have a few more notes to account for than first thought.
Jury selection in the 41-year-old's absurdly delay-plagued trial on child pornography charges finally kicked off in Chicago today, a date more than six years in the making, but not without one final bid for a postponement.
Despite a last-minute motion filed by Kelly's legal team to delay the trial, Judge Vincent Gaughan ruled that the jury selection would, at long last, begin after a brief recess.
That makes two strikes for the R&B star, as the Chicago Sun-Times also dropped a bombshell on the forthcoming proceedings this morning, revealing that an aide to the singer allegedly paid off an Atlanta woman for the safe return of a sex tape—one separate from the footage allegedly starring Kelly and a 13-year-old girl—featuring the singer.
It's unclear whether Kelly was privy to the deal.
Further complicating matters, the woman, who is described as having been in love with the star, is also expected to testify that she had a ménage à trois with Kelly and yet another underage girl. The woman has received immunity for her testimony.
As for the more infamous videotape at the heart of the case, the one allegedly starring Kelly and an underage girl, the now 23-year-old female is expected to testify in the trial that she is in fact a victim...of mistaken identity.
While prosecution is adamant otherwise, the woman claims she's not Kelly's costar in the footage.
Kelly has pleaded not guilty to the charges; he faces up to 15 years in prison if convicted.