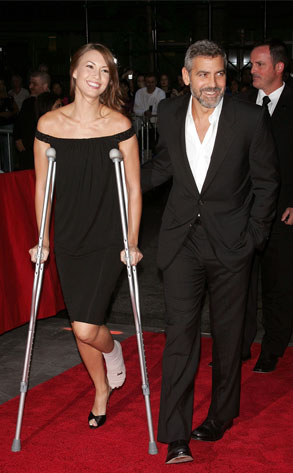 Jim Spellman/WireImage.com
Did a little poison nudge George Clooney and Sarah Larson's relationship along?
Not quite. But in the latest issue of Harper's Bazaar, the Oscar winner's gal-pal does admit that while the two were recuperating from their motorcycle accident last fall, they did take in a marathon of Rock of Love with Bret Michaels.
"We caught ourselves rooting for someone or getting frustrated," reveals Larson. "And we were like, This is sad."
The 29-year-old former Fear Factor contestant also recalls how they met four years ago while he was celebrating his birthday at the Vegas resort where she was working—"We were hanging out and dancing and being goofballs"—before bumping into each other again at the Ocean's Thirteen premiere in 2007 and beginning a relationship.