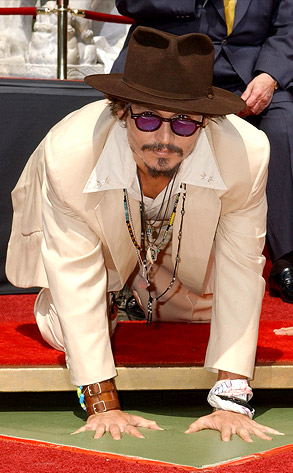 Gregg DeGuire/WireImage.com
Johnny Depp doesn't sport all that jewelry just to look hot. (That's just a by-product.)
In advance of his 45th birthday on June 9, Johnny's Angels—a club whose members share both a love for the Sweeney Todd star and a yen for doing good—is urging fellow fans to don a Children's Hospice and Palliative Care Coalition memorial bracelet (which Depp has been spotted wearing) in honor of the brave kids involved with the organization and the way they've touched the lives of others.
Depp's wristwear is imprinted with the phrase "Today Is a Gift...Have Fun," but other choices include "Only Love" and "Live and Love It Up." The messages are printed on a silver bar on a silver or leather band and 100 percent of the proceeds go to the CHPCC.

"Thanks to organizations like Johnny's Angels, more and more people are learning about the work of [CHPCC]," said cofounders Lori Butterworth and Devon Dabbs. "With the support of Mr. Depp's fans, we know that we'll be better able to make a difference in the lives of children with life-threatening conditions and their families."
Other celebs who have worn the bracelets: Tom Hanks, George Clooney, Mandy Moore, Jeremy Piven, Kiefer Sutherland, Nia Vardalos, Bradley Whitford, Jane Kaczmarek and Tom Bergeron.