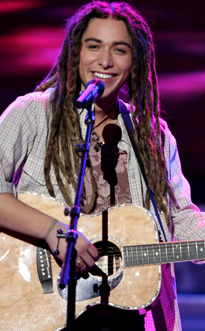 Frank Micelotta/FOX
Jason Castro not only didn't try to lose American Idol, the laid-back dude in dreads actually wanted to win the thing.
"Yesterday I wanted to win, and the day before [that]," Castro told reporters this morning.
The 21-year-old Texan's heretofore unexpressed ambition was thwarted by his elimination Wednesday night, his fate apparently sealed by a critically panned performance of "I Shot the Sheriff" and a lyrically challenged version of "Mr. Tambourine Man" on Tuesday.
Castro shot down theories that (1) he intentionally flubbed the words on "Tambourine Man," as alleged by judge Simon Cowell, and (2) he mouthed the plea "Don't vote" to the dialing public after one of his performances on Tuesday's show.