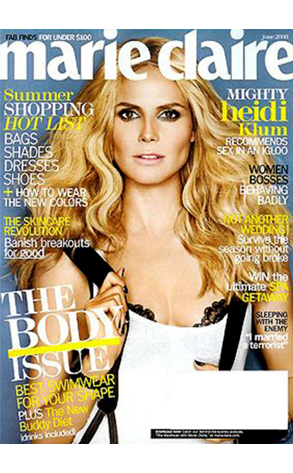 Marie Claire
Heidi Klum is on the cover of Marie Claire. Quelle surprise! Not only has Nina been seen talking to the MC folks, but the magazine is rumored to be taking over Elle's spot on Project Runway when its contract runs out.
So it doesn't exactly shock us to see Klum splashed across this month's MC cover wearing a facial expression that pretty much says, "I eat Elle for breakfast."

Still, we can't decide if we like all this mag wrangling. Either it's a monumental shift for Project Runway (from glam to kinda glam), or it's a move that suggests Marie Claire is going to be the place to be for hot tranny fierceness.
We hope for Heidi's sake it's the latter.