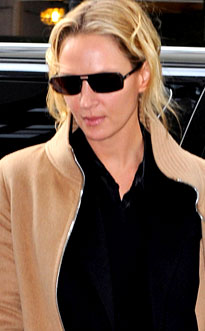 AP Photo/ Louis Lanzano
Uma Thurman's peace of mind is in a jury's hands now.
The Kill Bill star's stalking case went to a Manhattan jury today, after lawyers for the prosecution and defense wrapped up their closing arguments.
The eight-man, four-woman panel must decide if a former mental patient named Jack Jordan crossed the line from obsession to criminal behavior and, if so, whether he should be locked up.
Jordan's attorney, George Vornvolakis, admitted his client is "an eccentric man" with a "weird sense of humor," but he stressed that Jordan, who sent dozens of letters to Thurman and even broke into her trailer on a movie set, would never have harmed the object of his affections.
"He doesn't think like most of us," the attorney said. "In his own mind, he thought he had a chance."