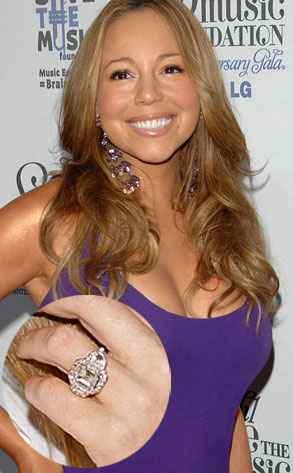 AP Photo/Peter Kramer, Brian Ach/WireImage.com
We might not know if Mariah Carey is a missus at the moment, but she is definitely flashing some major new hardware on her ring finger courtesy of Nick Cannon.
A rep for the jeweler Jacob & Co. tells E! News that Cannon forked over $2.5 million for the 17-carat sparkler currently adorning Carey's paw.
"It has a square, emerald-cut fancy light-pink diamond as the center stone that is 10 carats," the jewelrymaker says. "It is surrounded by 58 pink diamonds, with two half-moon diamonds on each side."
The ring was specially designed for Carat, er, Carey by company namesake Jacob Arabo and is not the same ring that Cannon used when he proposed to Victoria's Secret model Selita Ebanks, the source says.
"Both rings were by Jacob & Co., but this ring for Mariah was custom made by Jacob...I can say definitively that this is a completely different ring. They look a little similar, but this [Mariah's ring] is a one-of-a-kind piece that Cannon worked with Jacob to create."
The source says that Cannon "was in the boutique in the last couple of weeks" to retrieve the bauble.
Now all we have to do is figure out whether Cannon—or the rock-studded ring—is Carey's new best friend.