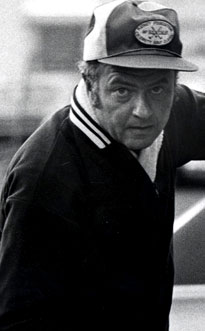 Ron Galella/WireImage.com
Harvey Korman was always good—if not better than most—for a laugh.
The Emmy-winning actor, best known for his rib-tickling antics on The Carol Burnett Show and one of Mel Brooks' favorite go-to funnymen, died Thursday at UCLA Medical Center. He was 81.
According to the hospital, Korman died of complications from an abdominal aortic aneurysm that ruptured four months ago.
While his most memorable film role had to be his turn as the overly sensitive Hedley Lamarr in Brooks' classic Western spoof Blazing Saddles, it was Korman's work in parody sketches such as "Went With the Wind" and "As the Stomach Turns" during his 10 years on The Carol Burnett Show that made him a top comedian.
Korman, a former Navy man who couldn't make it on Broadway but had comic timing to spare, won four Emmy Awards while on the show.
"Carol is absolutely devastated," said Burnett's personal assistant, Angie
Horejsi said. "She loved him very much."
In the late 1990s, he and Carol Burnett costar Tim Conway teamed for a successful traveling act, Tim Conway and Harvey Korman: Together Again, that lasted until December, with the septuagenarians performing up to 120 dates a year.
"I don't know whether either one of us was the straight man," Conway told the Los Angeles Times Thursday. "The most important thing in comedy when you're working together is for one guy to know when to shut up. And we both knew when to shut up; quiet show, actually."