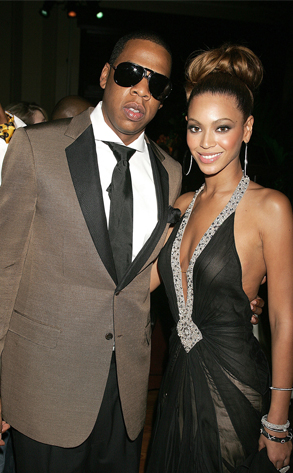 Jeffrey Mayer/WireImage.com
Beyoncé and Jay-Z are officially Mr. and Mrs. There's no doubt about it since the filing of their signed marriage license was made public.
So you'd think they'd start wearing wedding rings by now. But no, they're still ringless.
My spies spotted the newlyweds at last night's wrap party for Beyoncé's upcoming flick, Cadillac Records, at New York's Angels and Kings. (Others at the p.i.n.k. vodka-sponsored bash included Beyoncé's costars Jeffrey Wright, Adrien Brody and Mos Def.)
And while I'm told the couple was lovey-dovey and holding hands, there wasn't a bejeweled finger in sight—which seems to be in keeping with a Jay-Z sighting earlier this week at a Kanye West party in L.A., again not wearing a ring.
What gives you two?