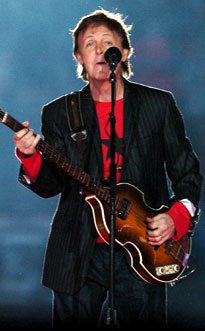 Theo Wargo/WireImage.com
Maybe now that he's single again, Paul McCartney is hoping those Ukraine girls will really knock him out.

Whatever the reason, the former Fab has signed on to headline a free outdoor concert in Independence Square in Kiev. The so-called Independence Concert will take place June 14 and is expected to draw hundreds of thousands of fans.

Now here's a little nugget we didn't learn in history class. According to the press release from the event's organizer, billionaire Victor Pinchuk: "The ideology and spirit of the Beatles helped build the democratic aspirations for much of the Soviet society and eventually led to the peaceful collapse of the U.S.S.R. and independence of the former Soviet republics."

Who knew? All they needed was love to thaw the Cold War.

"Me and the band are going to be there and we're going to have a great evening and we hope to see you there," McCartney said in a statement. "So come along, it's going to be a great evening hopefully for the Ukraine. Pull together, groove, rock and roll all together."

McCartney's no stranger to big crowds, having played several massive outdoor gigs in recent years, including playing for 90,000 in Moscow's Red Square in 2003.

In conjunction with the show, McCartney will also be on hand for the unveiling of 40 of his paintings on display at the Pinchuk Art Centre, the musician's first art exhibition in Eastern Europe.