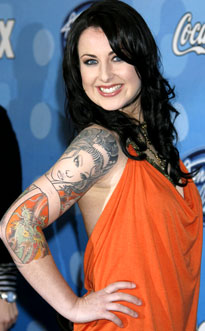 Jeffrey Meyer/WireImage.com
So, what's the story behind that rather large Amy Winehouse tattoo on Carly Smithson's arm?
It's not an Amy Winehouse tattoo.
"It's a geisha," the eliminated American Idol contestant told reporters today, laughing. "It looks nothing like Amy Winehouse."
Well, apparently it looks a wee bit like the Grammy-winning songstress, because reporters weren't the only ones wondering about the likeness.
"Everybody keeps asking me why I have Amy Winehouse on my arm," she said. "I've had it two years before even Amy Winehouse came out."
According to Smithson, even Andrew Lloyd Webber, who mentored the Idol finalists this week, inquired as to why her upper arm paid tribute to the "Rehab" singer.
The confusion stems from people mistaking the headdress on Smithson's geisha for Winehouse's beehive. Smithson said the problem should be fixed once she has the tattoo colored in—a finishing detail she wasn't able to get to because of the show.
Which she's no longer on. Which means Smithson can get back to the tattoo shop.