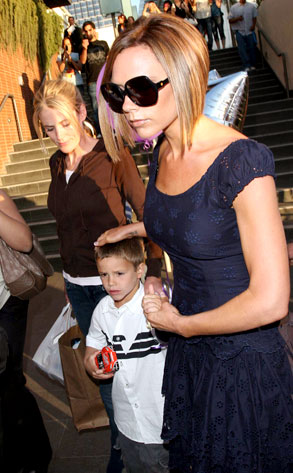 INFDaily.com
Hollywood A-listers turn out in droves to celebrate Victoria Beckham's 34th birthday at Via Veneto in Santa Monica—Tom Cruise, Katie Holmes, Gwen Stefani, Gavin Rossdale, Will Smith, Jada Pinkett Smith and more. Not one, we're guessing, can name a single Spice Girl's song.

Hayden Panettiere thinks Paris Hilton is a "genius." She also thinks that when she leaves the room, her Barbies come to life and do elaborate dance numbers. Shhhh. Don't spoil it for her.

On second thought, maybe Paris is a genius. Her rep is denying a rumor that the heiress wants a double wedding with Nicole Richie and their twin boyfriends, Benji and Joel Madden, so that they can sell the photos and make a killing. How, um, romantic.

Is charity Hollywood's new War of the Roses? Jennifer Aniston appeared on the finale of Oprah's Big Give last night. Brad rocked Idol Gives Back. Are these grudge gives? And if so, that's kinda sick. And awesome.

Daniel Radcliffe has reportedly become a gopher on the latest Harry Potter set, picking up the crew's coffee every day to take his mind off smoking. Because having a blockbuster movie franchise rest on your shoulders isn't enough of a distraction?
Kristin Cavallari is set to film a movie with Rob Schneider and Rumer Willis in Canada next month. To the casting agent involved in getting those three out of the country this spring, we just want to say, "Thank you!"