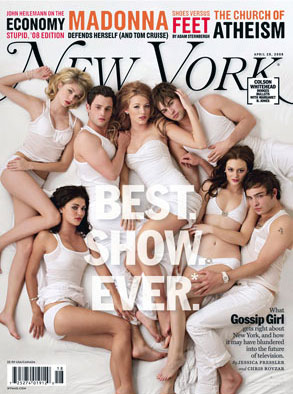 New York Magazine
How awesome it must be to run a magazine and be able to get the nubile young stars of your favorite TV show to pose half-naked in a sexy orgylike eye feast under the headline "Best. Show. Ever."

Good thing we don't own a magazine. Our TV obsession is with Golden Girls reruns.
In the upcoming issue of New York Magazine, Penn Badgley, arguably the Bea Arthur of Gossip Girl, reveals that the cast's sudden notoriety is strange.

"The psychology of celebrity is such a weird and new thing. I think the last time people treated anybody else like this was demigods like in the time of ancient Greece. That was absurd then, and it's even more absurd now."

Absurd to compare yourself to a Greek demigod? Yes. Yes, it is.

Maybe Blake Lively can take him down a notch. Here's how the actress describes actor Alan Arkin, with whom she has a kissing scene in an upcoming film:

"He's a little bit of an upgrade from Chace and Penn. So I'm looking forward to that."

Ouch!