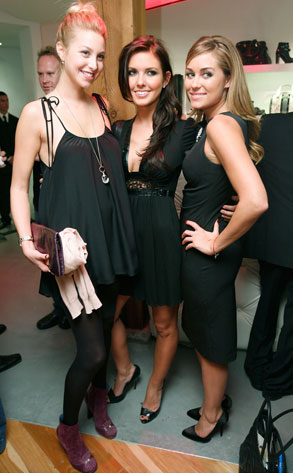 Chris Weeks/WireImage.com
I've noticed that the world seems to be on a first-name basis with the girls from The Hills. I mean, do Whitney and Audrina even have last names?
—Becca, Madison, Wisc.
Now that's just silly. What about the New York Times, which never bows to trends and nearly always pairs an honorific with a last name, like Mr. and Ms. So and So? Take this here NYT review of The Hills written last month, which says that—OHGREATGOOGLY MOOGLYTHE
WORLDISGOINGTOHELL:
"The Hills...has continued to track the emotional warfare between former best friends Lauren and Heidi."
So. The whole world is on a first-name basis with those kids. Huh. Well, here's what's clear: The trend starts with celebrity magazines. When Us Weekly decides that someone is famous enough for first-name treatment ("Betrayed by Brody and Audrina"? Eek!), the editors are assuming that readers already know who they are.