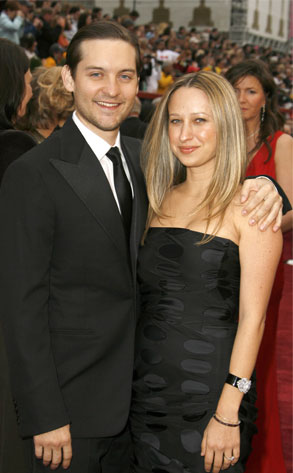 Jeff Vespa/WireImage.copm
Tobey Maguire and his wife, Jennifer Meyer, are not having a second child in July. Says his rep of the erroneous report, "It is 100 percent false." His daughter, Ruby, says, "Eh. I wasn't jealous. Sequels tend to suck."

Miley Cyrus was smokin' hot at the CMT Awards this weekend. No, we mean it: She had a fever of 103. Ms. Professional popped vitamins like mad and downed gallons of tea and pulled through without anyone noticing a glitch. Nice work.

Heidi Montag believes her "work" on The Hills qualifies her for meaty roles opposite A-list actors. Unless she's joining a high-class hooker ring, we have no idea what she's talking about.

Nicole Kidman reveals she's had "severe morning sickness," which makes it difficult to hold down food—and thus, gain weight during her pregnancy. You don't say?

Paris Hilton's parents have gotten into the act announced that they love Benji Madden every bit as much as P.H. does. Ain't publicity love grand?

So Ashlee Simpson isn't pregnant. Except that she is. But maybe she isn't. And now we've officially spent more time thinking about Ashlee Simpson than we ever imagined possible.