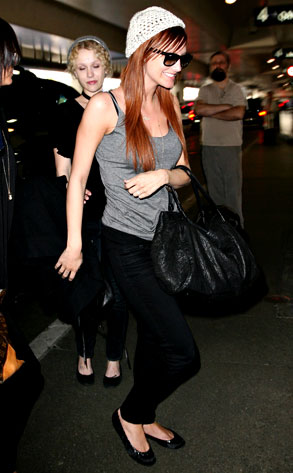 FAME PICTURES
Okay, so now Ashlee Simpson might be pregnant? Do Hollywood stars not know about birth control or do they just choose to ignore it? Can she really handle a baby right now?
—Melanie, Hermitage, Pa.
Jennifer Lopez just scored a reported $6 million payday for photos of her twins, and you're wondering why starlets are flushing their Yaz pills en masse? (And for the record, Mr. Wentz, I am not asserting that your lovely fiancée is preggers. And if she is preggers—which I am not saying—I am not asserting she did it for money. No need to get your eyeliner in a smear.)
For argument's sake, let's just assume Ashlee is pregnant, just like Jamie Lynn Spears and Gwen Stefani and Jessica Alba and the ever-pissy Lisa Marie Presley. Just so happens I have a checklist here of exactly what a typical, new celebumom needs to get started. I got it from tell-all author and baby consultant Suzanne Hansen, a former nanny who still maintains a spy network of caregivers to the stars.
So for the first time, in print, the celebumom personal checklist: