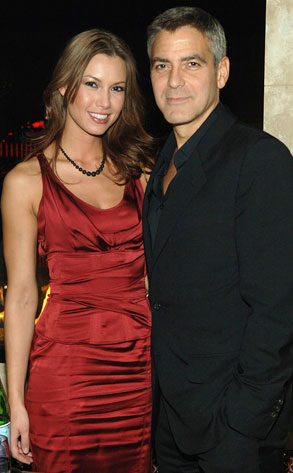 Courtesy of Palms Casino Resort
George Clooney has taken his eligible-bachelor status out of storage.
The Oscar winner has reportedly split up with Sarah Larson, his envy-of-many girlfriend of about a year.
Clooney's publicist, Stan Rosenfeld, would only tell E! News, "I do not comment on George's personal life."
But sources close to the situation have been saying the duo are no more. They were last photographed together at the 47th-birthday bash Giorgio Armani threw for Clooney May 6 in New York.
The Michael Clayton star was spotted just this weekend, however, soaking up the sun with an all-male crew in Puerto Vallarta, Mexico.
He and Larson originally met in Las Vegas at Whiskey Bar, where she was working as a cocktail waitress, about four years ago, but things didn't get serious until they saw each other for the second time last June, also in Sin City.
Since then, Larson's connection with Clooney has translated into an appearance in People's 100 Most Beautiful issue, a trip to the Oscars in February (the first time Clooney ever took a girlfriend) and countless red carpet appearances.