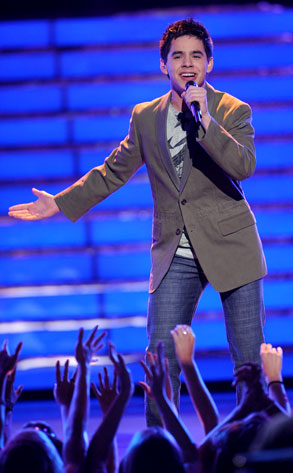 FOX
Sorry, ladies. American Idol runner-up David Archuleta says he plans to remain single for a while. And not just because his parents won't let him date yet.
The 17-year-old heartthrob tells Regis and Kelly that he's going to put off dating for now because he needs to focus on other aspects of his life. Like algebra.
After the A.I. tour this summer, David will start his senior year in high school in the fall, where we're sure classmates and teachers are going to treat him exactly the same as before.
The announcement comes just a day after Idol winner David Cook revealed how he is converting his victory into nooky gold, telling Regis and Kelly he'd gone on a date with Kimberly Caldwell, and that he'd "probably hang out" with her again.