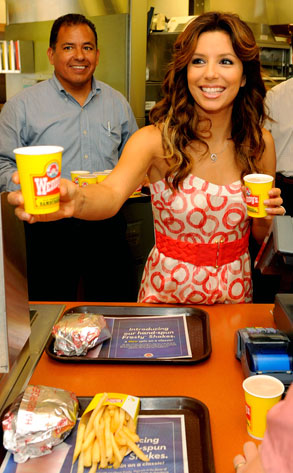 Michael Caulfield/WireImage.com
Talk about service with a smile, on both sides of the counter.
Eva Longoria Parker served up milkshakes to what were presumably some pleasantly surprised customers Tuesday at a Wendy's in her hometown of Corpus Christi, Texas, where she was pulling counter and drive-thru duty to help promote the fast-food chain's upcoming Father's Day Frosty Weekend.
And it wasn't just recent experience handling crowds of admirers that had Longoria slinging shakes like a pro—the Desperate Housewives star used to work at the restaurant as a teen.
Fifty cents from every Frosty sold at participating Wendy's June 14-15 will go toward the Dave Thomas Foundation for Adoption and the Wendy's Wonderful Kids program, which benefit children in the nation's foster-care system.