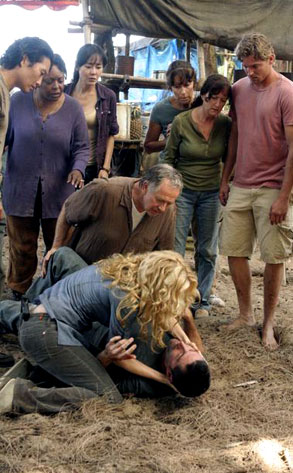 Mario Perez/ABC
Forget 4, 8, 15, 16, 23 or 42. The number of the night is 204.
That, dear friends, is the combined temperature of your viciously-flu-ridden friends Kristin and Jen, who are honestly sicker than we've ever been in our lives and are too delirious to make any sense tonight. We started to write tonight's Lost Redux and here's what we got:

I love the underground colony of Fraggles! And the leprechauns with their rainbow-colored light beams! Is anyone else on fire? Jacob, is that you? I forgot to clean the lint trap on my tongue. Easter Egg: The Marshall's briefcase is hidden in my stomach sweat!

See? We are insane with fever. So while we search for our Constants to get off this Flu-Freighter before it kills us, we are turning over this week's Lost Redux to YOU, the fans who know way more than us anyway.

So spout off your best theories, comments, surprises and scoop in the comments below, please?

And of course, we are TRULY SORRY to flake on you and it will never, never, ever happen again.

Sorry. Sorry. Sorry.

And the leprechauns are, too.

If you have any questions for Emilie de Ravin (Claire) and/or Adam Horowitz and Eddy Kitsis (who wrote tonight's episode), please email them to tvdiva@eonline.com.