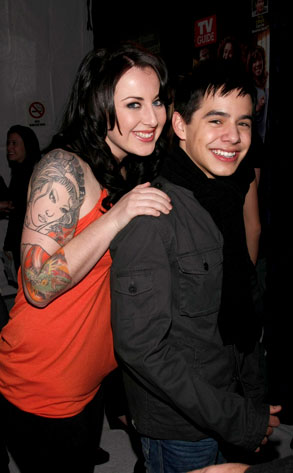 Kevin Winter/FOX
I'd like to formally recant my previous assertion that David Archuleta is a doe-eyed, ever-smiling, Small Wonder-like robot.
As we learned tonight, he is not perfect. He does make mistakes—including even the most blasphemous of all American Idol sins: forgetting the words. And yet, dangit...Wait a minute...That somehow manages to make him all the more appealing, does it not? Curses! There is no escaping the undeniable charm and overwhelming talent of boy wonder Awwwrchuleta.
And I'm gonna call it now (so you can ridicule me later) and predict that David Archuleta and Carly Smithson will be the final two (even though I love Jason Castro and Brooke White wholeheartedly—I even cried when she cried!).
So why are Carly and David so tough to beat? As I mentioned when this seventh season began, Carly was the Irish "powerhouse" Paula had predicted to me that would win back in season five (when she couldn't get through immigration to be on the show) and now tonight, Simon has said that her sixth episode performance was so stunning, she's now "just like Kelly Clarkson" in his book. (That's sorta like a prospective employer telling you you're "just like Jesus"--chances are, you're gonna get the job.)
As for David? It's no secret he's the hands-down favorite so far among voters and fans. Don't believe me? Watch...I bet he'll even win this poll...