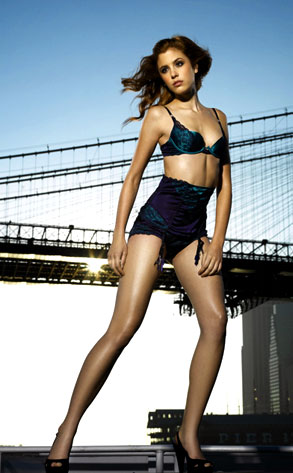 George E. Holz /The CW
Did you scream a gleeful "Yes!" when Allison was axed from ANTM last night?
You are not alone. I suspect many a viewer was rubbed the wrong way watching the Waunakee, Wisconsin, wannabe brag about being the most experienced model in the house.
And then there's that other drama with Fatima. I have a feeling the East African hopeful, who is known for stirring things up, knew what she was doing when she told Allison, a recovering anorexic, that she had an ample backside and was "bigger" than her. Unfortunately, Allison's response was just ugly: She padded the butt on a black doll by stuffing its pants with tissue and said black women "like to take it from the back."
Today we had the chance to chat with 18-year-old Allison, who didn't immediately address the controversy but did mention she couldn't bring herself to watch the "drama portion" of the episode. When directly confronted with a question about it, she expressed regret.
"It was very immature, and I'm kind of disgusted with myself...It was a retaliation because what Fatima said really pissed me off. I was more acting on impulse than really thinking about what I was saying."