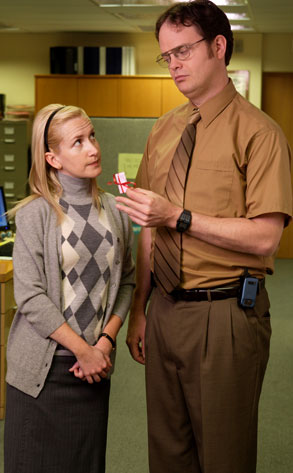 Paul Drinkwater / NBC
Attention, Dwight Schrute: You may be a daddy and not even know it!
As you Office fans know, Angela Kinsey (Angela) is pregnant in real life, so when my good friend Hyla over on our satellite radio show Yo on E! told me he was chatting up Dwight's alter ego Rainn Wilson, I begged him to ask the money Q: Is Dwight gonna be a daddy?
Rainn made it sound like Angela probably won't be pregnant on the show. "I think had we been shooting this whole time, they probably would have done it," he explained. "They probably would have had a mystery baby for Angela and you don't know if it's Dwight's or Andy's. That would have been so much fun, but I don't think they will do it, 'cause she's already six to seven months pregnant now. It's ridiculous, I think they'll need to shoot around her big belly."
But wait a minute, stop the Dunder-Mifflin paper presses! I just so happened to have heard that the Office writers were considering jumping the storyline forward five months into the future after the first episode back. Weird, right? And no one seems able to explain why...
So, maybe this is just a wishful, baby-brained hallucination, but doesn't it seem the best reason to do something like that might be for, say, a totally awesome Springer-esque baby-daddy-drama storyline with Angela, Andy and Dwight? (The most whorish storyline around for TV's biggest prude?! Sign me up, please!)
Of course, I could be 100 percent wrong. But it sure is fun to consider. (Tell me what you think in the Comments below!)
By the way, Rainn insists "the baby is Stanley's" (he's kidding) and also reveals that the cast goes back to work Mar. 10 to do six more episodes, which will start to air in April. As for what Dwight's been doing during the strike? "Just farming, just enjoying nature and beets. Improving his beet-farm technology and playing a lot of online gaming like World of Warcraft."
I love that man.