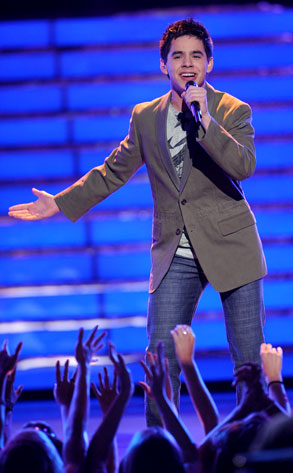 FOX
What David Archuleta wants to know is, why in the world wouldn't he be able to fetch a glass of water for himself?
"I heard one thing where [my dad, Jeff] refused to give me water or something like that and that's the weirdest thing," the American Idol runner-up said Friday in a conference call with reporters. "I mean, I am 17 and you know, if I want water, I am pretty sure I would just go get it anyway."
Archuleta, who lost to David Cook by a reported 12 million votes Wednesday despite being the apple of the judges' eyes for several weeks, said that he wasn't really exposed to all the "stage dad" reports circulating about his pop until later on.
"He understood that I didn't like to hear anything going on in the news about me, good or bad, because I didn't want it to distract me or let it go to my head or anything like that because I just wanted to stay myself as I was at the beginning of the competition before all this happened," Archuleta said of his father, who was banned from Idol's backstage earlier this month after prompting his son to add unlicensed lyrics to "Stand By Me."
"I wanted to keep who I was, the normal, teenage David. But in interviews and stuff it started coming up and it's kind of strange because there were really weird things."
Of course, it's also weird to Archuleta that he's got millions of adoring fans, but he's just going to have to get used to it.