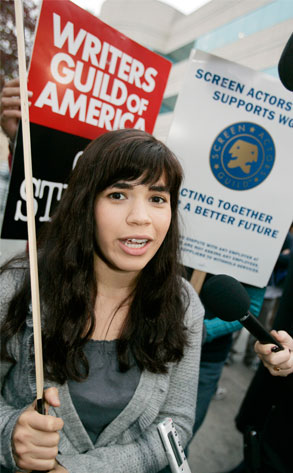 AP Photo/Reed Saxon
"Don't be greedy! Don't be petty! You won't get your Ugly Betty!"
This was the sentiment being shouted outside the gates of Raleigh Studios—where Ugly Betty tapes—yesterday afternoon, when the cast of the show gathered to join their writers in protest and proclaim solidarity. (Get the latest writers' strike details in our news story, and keep checking back for more.)
"The issues coming up with the actors' contracts are very similar to what the writers are dealing with right now, and we have to stay united and stand strong within the creative community for what we believe is fair," said America Fererra.
"I've heard a lot of stuff about the writers getting flack because they're greedy or because they want too much. And the truth is that these are honest, hardworking people, and they're not all rolling in dough. They deserve compensation for the wonderful work they bring to the table."