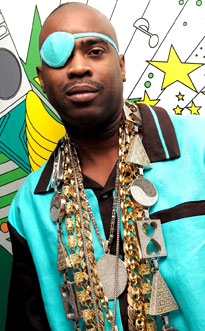 Gary Gershoff/WireImage.com
The state of New York feels Slick Rick has atoned for his sins. (And we don't mean his excessive bling in the late 1980s.)
In light of Rick's service to his community and clean record after the fact, Gov. David Paterson is granting a full and unconditional pardon to the rapper, who spent six years behind bars after pleading guilty to attempted murder and weapons charges for shooting his cousin and a random bystander outside a club in 1990. Both victims survived.
Paterson praised Rick, whose real name is Ricky Walters, for keeping his nose clean and apparently learning his lesson since his release from prison in 1997.
"Mr. Walters has fully served the sentence imposed upon him for his convictions, had an exemplary disciplinary record while in prison and on parole, and has been living without incident in the community for more than 10 years," the governor said in a statement.
The eyepatch-sporting "La Di Da Di" purveyor has also spent time counseling troubled youth and has been without parole supervision since 2000.