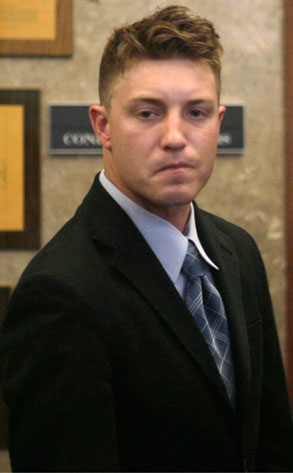 Nick Ut/AP Photo
Another prison break for Lane Garrison.
The incarcerated actor has been relocated yet again, E! News has learned exclusively. Less than three weeks after his last transfer to Corcoran State Prison, Garrison was moved on Wednesday to the medium-security California Correctional Institution in Tehachapi, Calif.
This is his seventh facility—and 10th transfer—in 10 months. Corcoran, where Garrison was most recently housed, is the same facility Robert Downey Jr. lived in back in 1999.
Despite prison sources telling of "excellent behavior," the former Prison Break star was notified Wednesday afternoon that he was being moved immediately. According to a source inside the prison, "It was a surprise to him and a surprise to the other inmates."
Asked why Garrison has been moved so frequently, Department of Corrections spokeswoman Terry Thornton would only say, "It is very likely this is the place he will stay the longest."
The Tehachapi facility doesn't have a hospitable reputation. In April, all California state prisons were on lockdown after four officers were stabbed by two inmates at Tehachapi. Tehachapi was also the scene of a race riot in 2005 involving 480 black and Hispanic inmates.
Garrison, who turns 28 on Friday, was sentenced to 40 months in prison but is expected to be released early next year, due to reductions for good behavior.