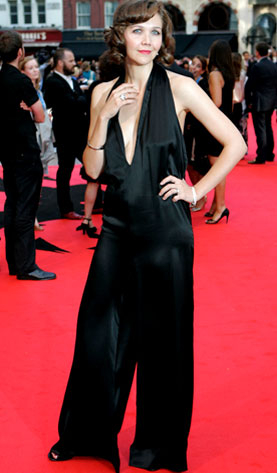 AP Photo/Joel Ryan
Seriously, Maggie? A silky, slouchy jumpsuit to the London premiere of the movie with not only the highest opening-weekend gross ever, but also the current No. 1 film of all time on IMDb? Somebody said this was OK?
Well, we're not mad, Mags. We're disappointed. You see, there are some of us here that have always stuck up for you. Even when a bad magazine cover comes along or a slightly off (OK, often really off) choice of dress pops up at some Indie event, we've had your back.
And you really came through for us at New York's The Dark Knight premiere with that elegant, strapless floral gown. But this jumpsuit is unforgivable. We're not even going to bother telling the IMDb haters to quit making fun of you.
At least it's not all bleak, though—your hair looks nice.
For more red carpet surprises and successes, check out our Fashion Police gallery.