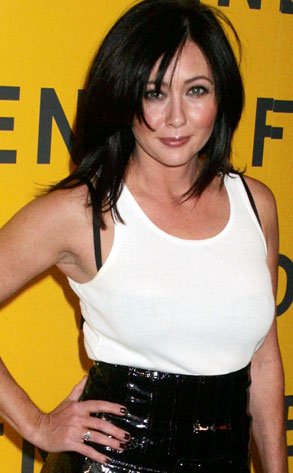 Nancy Kaszerman/ZUMAPress.com
The beeyotch is back.
The CW has confirmed that erstwhile Brenda Walsh Shannen Doherty will be reprising her role as one-half of Beverly Hills' best-loved Minnesota twins for a multiple-episode stint when the 90210 spinoff hits small screens this fall.
Doherty's reprisal marks the fourth official return from a Beverly Hills, 90210 regular to the spinoff, joining Tori Spelling, whose Donna Martin is now an upscale boutique owner, Joe E. Tata, whose Nat is still the owner of the Peach Pit, and—cue the maniacal moustache-twirling—Jennie Garth, whose Kelly Taylor is now the guidance counselor at West Beverly High.