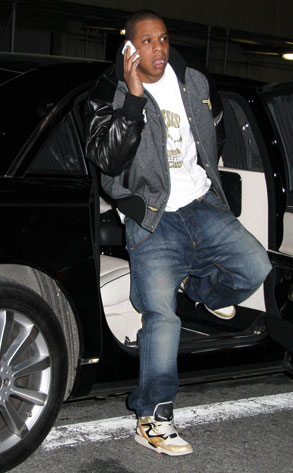 Jose Perez/INFphoto.com
What is the "it" or hot car for celebrities to have right now? Is it still cool to have the foreign sports cars, or are celebs going green and hybrid?
—T.M.
Hybrid? Sure, if you're talking about a hybrid that breeds expensive with super obnoxious.
Let's put it this way: When Beyoncé sang about another woman "in the 'Bach or the Rolls" for her single "Ring the Alarm," she happened to be talking about two cars owned by her then-boyfriend, Jay-Z. The rapper, now Beyoncé's lawfully wedded mogul, owns a Maybach and a Rolls-Royce Phantom. And both are the cars to have, dealers to the stars tell me. That is, if you're the type of star that can use "dukey rope" in a sentence.
Who else has managed to snag these $450,000 prestigemobiles? And what is inside those things, anyway? Find out—from Fiddy's car dealer, no less—after the jump.