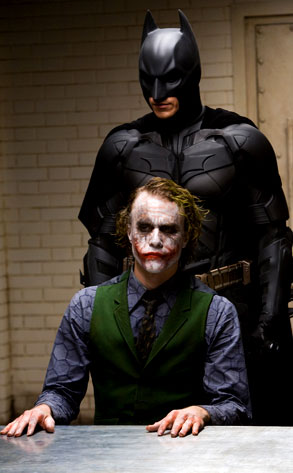 Stephen Vaughan / DC Comics
Heath Ledger's costars from The Dark Knight, including two-time Batman Christian Bale, took turns at a press event this weekend praising and remembering the late actor's intense style. A few of them are even lobbying for a gold statue on his behalf.
"Definitely," said Aaron Eckhart, who plays doomed district attorney Harvey Dent to Ledger's droll and very creepy Joker. "Why not?"
Fellow castmember Gary Oldman was more pointed about it.
"Heath had this frequency none of us could hear," said Oldman. "The Academy tends to overlook movies like this, but this acting is so good it's going to be very hard for them to avoid it."
His other Gotham cohorts marveled at Ledger's obsession with detail: