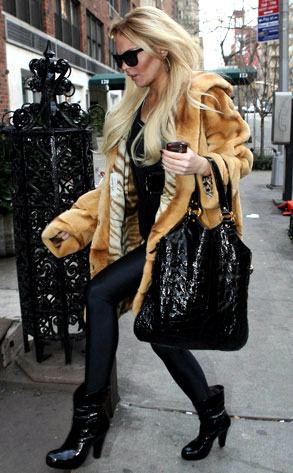 INFdaily.com
It's the stuff sitcoms are made of, but it's true.
Lindsay Lohan has been sued by a New York college student who contends the starlet pilfered her fur coat after the two shared space at a club one night in January. (View the lawsuit.)
Masha Markova, 22, told the New York Post she wore her $12,000 sheared mink coat—a gift from her grandmother— Jan. 26 to a birthday party at hot spot 1 Oak, where she placed the treasured wrap in a bin with numerous other coats.
When her coat was nowhere to be found at the end of the night, Markova figured she had lost it for good.
But then, she said, she was flipping through the Feb. 11 issue of OK! magazine when she spotted a pic of Lohan wearing the very same fur.
"It was my coat. It was no doubt!" she told the Post.
Attorney Merrill R. Cohen said Markova got her coat back on Valentine's Day after Cohen made a call to Lohan attorney Blair Berk. The fur was delivered to Markova's apartment by a rep from 1 Oak and was good to go after being dry-cleaned.
But a lawsuit has still been filed in New York State Supreme Court in Manhattan asking for unspecified damages.
There has been no immediate comment from Lohan's camp on this latest turn of legal events.
PETA, however, is pretty annoyed at everyone involved.