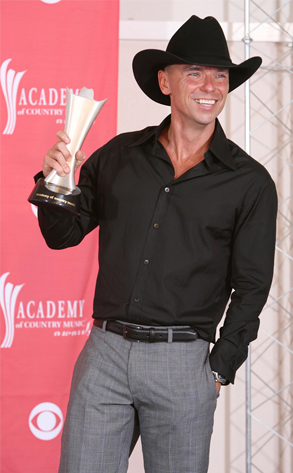 AP Photo/Eric Jamison
Keith Urban lost out to Kenny Chesney for Entertainer of the Year, but wife Nicole Kidman's burgeoning belly practically upstaged everyone at Sunday's 43rd Annual Academy of Country Music Awards.
Kidman had no qualms about showing off her bump to the photographers as she and Urban arrived at the MGM Grand in Las Vegas for the ACMs. The couple are expecting their first child this summer. (Photo after the jump.)
As for the awards themselves, the ceremony was a virtual replay of last year (and the year before that, and the one before that...), as Chesney won the top prize, Entertainer of the Year, for the fourth consecutive year. Only Alabama, with five straight wins, has had a better run.
This was the first year that fans selected the award, which elicited a mixed reaction from Chesney.