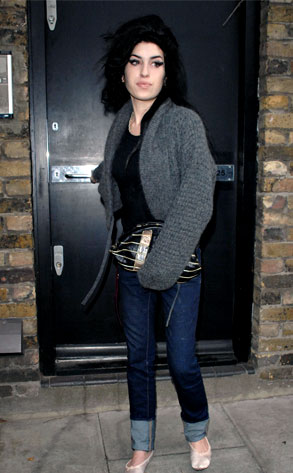 Fame Pictures Inc.
Nelson Mandela just scored a coup of a birthday guest...that is, if she shows up.
Amy Winehouse has officially been added to the lineup of artists set to perform at a special London concert marking the former South African president's 90th birthday.
In addition to the "Back to Black" singer, Leona Lewis, Queen, Razorlight, Annie Lennox and Shirley Bassey are set to perform at the three-hour June 27 event in Hyde Park, which Mandela himself is set to attend. Proceeds will go toward his 46664 charity, a global campaign to raise awareness of HIV and AIDS.
"We are delighted Amy will be appearing at Hyde Park," Tim Massey, the international director of the charity named after Mandela's prison number, said.
The gig—which, fitting with the theme of the night, will have an audience that's 46,664-strong—will mark Winehouse's first full set onstage since last November, right before she called off her tour.
In addition to the trouble-plagued 24-year-old, Bill Clinton, Oprah Winfrey, Robert De Niro, Forest Whitaker and Will Smith are also scheduled to attend, with Smith holding down emcee duties.