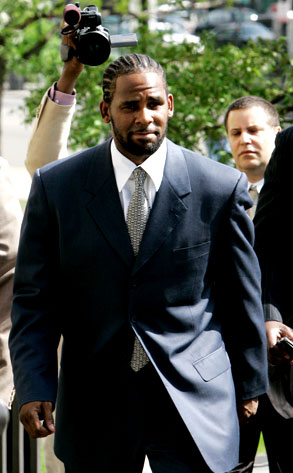 AP Photo/Charles Rex Arbogast
R. Kelly's alleged skeletons may remain trapped in the closet a bit longer.
The judge overseeing the R&B star's kiddie-porn case has rejected another legal challenge by news outlets to unseal court documents and transcripts from hearings held last month.
The motion, jointly filed by the Chicago Tribune, Chicago Sun-Times, the city's public radio station WBEZ and the Associated Press, sought to lift the veil of secrecy surrounding the closed-door proceedings.
However, Cook County Judge Vincent Gaughan issued a ruling denying access, claiming it would help to ensure Kelly gets a fair trial and also protect the identity and privacy of the singer's supposedly underage costar in a sex video.
"Time and again, it has been made clear that closure is necessary to protect the minor victim and the defendant's right to a fair trial by ensuring the jury will not be exposed to inadmissible or highly prejudice[d] evidence," wrote Gaughan.
While he's all for a free press, the judge said he will postpone releasing such records until a more appropriate time—like the end of the trial. Though he did throw media outlets a bone, a copy of the jury questionnaire that potential jurors had to fill out.
After three days of wrangling over the racial profile of prospective panelists, the prosecution and defense finally seated on Thursday a 12-person jury made up of eight white and four black people. Opening statements kick off next Tuesday.