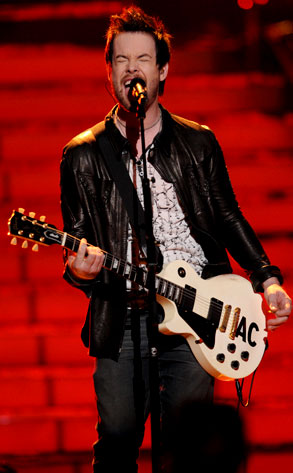 FOX
At first it seemed like overkill, being able to download American Idol performances from iTunes the day after they aired.
Until we realized we could pay 99 cents and listen to David Cook's version of "Hello" as many times as we wanted!
And thousands of people are clamoring for more, giving the newly crowned Idol winner four out of the five top spots on iTunes' list of Top Songs. His victory anthem, the songwriting-contest winner "The Time of My Life," is perched loftily at No. 1.
The other big digital hits for Cook at the moment (literally, at this moment) are his Idol-specific tune, "Dream Big" (which, despite the judges' distaste, armchair critics seem to love), "I Still Haven't Found What I'm Looking For" and "The World I Know"—all songs Cook sang this week.
All that currently stands in the way of a clean sweep of the top five iTunes downloads is Coldplay's latest single, "Viva la Vida," which is hogging the No. 3 spot.