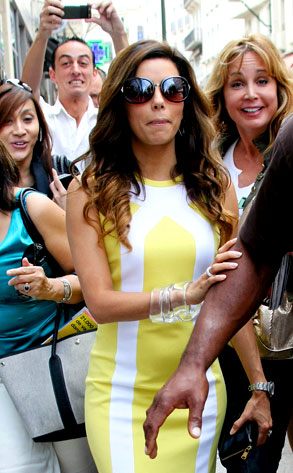 ANG/Fame Pictures
NOTE: Leslie Gornstein—aka The Answer B!tch—is on leave, finishing a book. Her column will return June 9. Meantime, drop her a question about Hollywood, and she'll nail it when she gets back.
I've read about all the goodies stars get for free. But is there anything that no celebrity, no matter how big, could receive gratis?
—Sara M.
In the tug-o'-wars between simpering Italian designers and braying celebrities, it's rare for the designers to win. Take Eva Longoria Parker, for example. Fendi recently released some handbag worth tens of thousands. According to celebrity gifting guru Lash Fary, who has a relationship with both camps, the actress was the only one to get the bag as a gift.

Favorite celebrity designers, such as Hermès, Louboutin, YSL and Gucci, in general, "will not gift," says Melissa Lemer of the Silver Spoon entertainment marketing company. Fary says there are always exceptions, such as Longoria Parker and her Fendi.
But on the one item that nobody gets gifted, both Fary and Lemer agree: