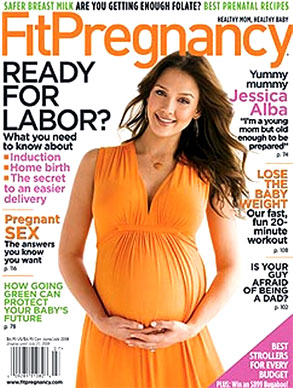 Fit Pregnancy Magazine
Buy some stock in Pampers. Now.

Jessica Alba, who graces the cover of the June/July issue of Fit Pregnancy, is just one of several celebs who are prepping for diaper duty this summer.

And when it comes to child rearing, the Fantastic Four star tells the magazine, "I don't want to be my child's friend; I want to be a mom."

Of course, in the case of 17-year-old Jamie Lynn Spears, who is also due to drop soon, no one will blame her kid if it can't help but look at mom and think friend, or playmate, for that matter.

Then, there are also those returning for an encore performance, including hot mama Gwen Stefani as well as Angelina Jolie, who just confirmed she is having twins—though her reported due date of Aug. 19 seems to be at odds with the very pregnant photos taken last week at Cannes.

Meanwhile, Nicole Kidman is barely even showing, though it feels like she's been preggers forever.

So whose little tyke do you think will venture out into this cruel world first for his or her close-up? Sound off in the comments section below...