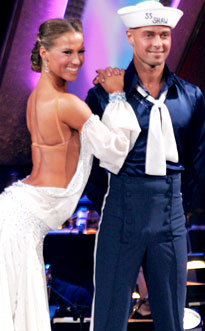 ABC / Adam Larkey
For those of you looking to cram your TiVo with dance competitions, this is some pretty great news!
TLC has tapped Joey Lawrence, fresh from either shore leave or the third season of Dancing With the Stars, to host Master of Dance, the latest edition to the show-us-your-moves canon.
Only this time, a contestant will be halfway through a dance when the powers that be switch the music, forcing the hoofer to prove he or she can really go with the flow. The person who can do that most proficiently will win $50,000 at the end of the six-part series, which premieres June 8.
"The winner of this show will be that person at the wedding or party who always has the right moves and knows every popular dance," said executive producer Craig Piligian.
Well, better that person than the guy who throws up on the bride or spills his drink on the stereo.