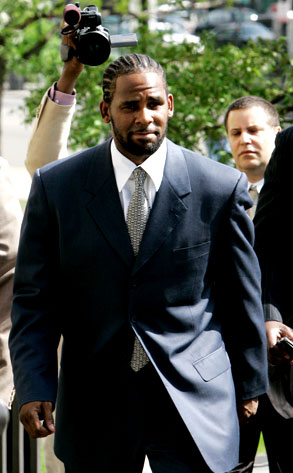 AP Photo/Charles Rex Arbogast
Both sides argued heatedly, played the race card and ultimately stifled their true feelings so they wouldn't be thrown out of court. Sounds as if we've got ourselves a jury!
Indeed, an eight-man, four-woman jury was seated today for R. Kelly's years-in-the-making trial on child-pornography charges.
Not that this part was easy, either. Over the past week, Kelly's team has argued that the prosecution was trying whitewash the jury, with its last objection coming today as the opposing side used its final two peremptory challenges (the right to dismiss a person without giving a reason) to boot a black man and an Asian woman from the panel.
Meanwhile, prosecutors pointed out to Cook County Judge Vincent Gaughan that the defense used all six of its peremptory challenges on white people.
Ultimately, when all was said and huffed over, the jury consisted of eight white and four black people, while two blacks, one Hispanic and one white person were chosen as alternates.
Opening statements are scheduled to begin Tuesday morning.