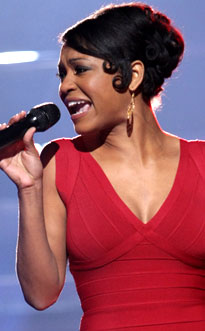 Frank Micelotta / FOX
Don't miss one song—or one note of British sarcasm—with our performance-show liveblog:
Three finalists, three songs apiece—you do the math. Now we find out what exactly the judges are thinking when they inform an ambitious contestant he or she has chosen the wrong tune, and it's always fun to have an endless songbook to choose from to up the surprise factor.
Some are surprised Syesha is still here, others think David A.'s had it in the bag all along, while David C. continues to do his thing, be it authentic or a bit...similar from week to week.
We start off with the mayor of David Archuleta's hometown informing him that Paula has picked Billy Joel's 1983 ballad "And So It Goes"...