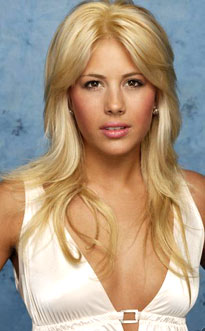 ABC/CRAIG SJODIN
"At times I thought you were the one—many times. I think you're amazing, and I wish you the best."
So said Matt Grant to the woman he didn't pick on the finale of The Bachelor: London Calling.
But so goes the pioneering ABC series, which wrapped up its 12th season Monday with Grant, a 27-year-old financier from London, popping the question to 22-year-old Shayne Lamas, an actress and the daughter of Renegade star Lorenzo Lamas.
"I came here to find someone for life. And I know, when I look in those beautiful brown eyes, that you'll always be there for me. And I hope you know that I will always be there for you. I don't have much more to say."
Then he got down on one knee, declared his love, and presented Lamas with a multicarat sparkler.
Meaning Chelsea Wanstrath, 24, got the shaft—albeit a much nicer-sounding shaft, thanks to the British accent (which, really, can alleviate anything).