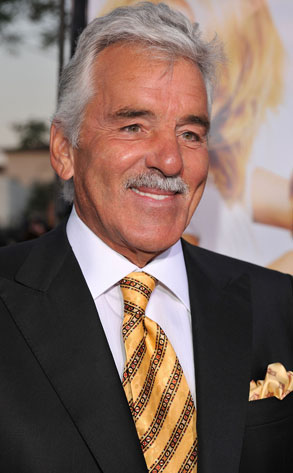 Lester Cohen/WireImage.com
UPDATE: This is not the kind of upgrade you want when you go to the airport.
Dennis Farina has been charged with a felony count of carrying a loaded firearm, an upgrade from his original misdemeanor booking this afternoon after police confirmed that the gun the actor was toting through airport security was not registered.
His bail was also upgraded in kind from $25,000 to $35,000.
"Farina was very apologetic and cooperative with officers," police said. "However, he had no apparent authority to carry a concealed weapon at the time of his arrest."
Farina spent the majority of the afternoon at Van Nuys jail before being released on bail.

___________________
What happens at LAX...better not involve an unregistered handgun!
Veteran actor and former Chi-town police officer Farina was taken into custody at Los Angeles International Airport on Sunday after LAX screeners found an unregistered .22 caliber semiautomatic pistol in his briefcase. He was transported to a police station in Van Nuys and is being held on $25,000 bail.
Police say Farina, 64, was "very apologetic and cooperative" and told them he had simply forgotten about the weapon. The former Law & Order star was on his way to Chicago when he was arrested by TSA.
In addition to a jail cell this weekend, Farina can be seen in What Happens in Vegas starring Cameron Diaz and Ashton Kutcher.
(Originally published May 11, 2008 at 1:30 p.m. PT)