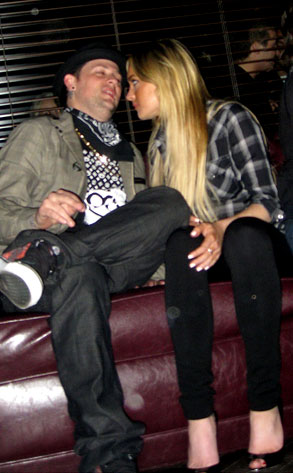 Karl Larsen/INFDaily.com
Celebs not invited to the fancy-schmancy Costume Institute gala in New York spent their Cinco de Mayo at the Hornitos tequila soiree in Los Angeles instead. The party, cohosted by Joel and Benji Madden, was held at new Hollywood hot spot Crown Bar, with Samantha Ronson on the turntables.
Benji brought along his attached-at-the-hip honey Paris Hilton, but Nicole Richie stayed home to babysit Harlow while Joel carried out his hosting duties.
Meanwhile, Lindsay Lohan arrived with BFF Sam and snagged a table right next to the DJ booth. And although she proceeded to talk to Joel, they looked strictly friendly, despite what the photo suggests. "He is so devoted to Nicole, and that baby was all he talked about," says a source.
In fact, when Joel left the party, he told guests he'd be getting up early the next morning to watch Harlow so Nic could sleep in. He did kiss Lindsay goodbye, but on the cheek.
Still, L.L.'s table proved a popular hangout: