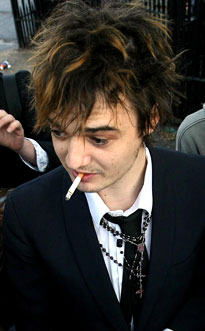 Press Association via AP Images
Sweet liberty for the former Libertine.
Pete Doherty walked out of London's Wormwood Scrubs prison this morning, after serving just 29 days of a 14-week sentence for his usual litany of drug and driving offenses.
Upon his release, the Babyshambles frontman told reporters he was looking forward to indulging in one of his more legal vices: drinking a rum and Coke. But proving he hasn't gone completely hard in jail, Doherty also said he was jonesing for some quality time with his cat.
While he also wasted no time in showing the assembled media a certificate indicating that he had passed a drug test while behind bars, he danced around a question asking whether he ceded to his drug habit during his prison stint.
"Well, I knew it was going to be a bit rough to start with, with the overcrowding and the medical facilities," the 29-year-old said. "Although they do their best—they are good, they can't cater for the average junkie."