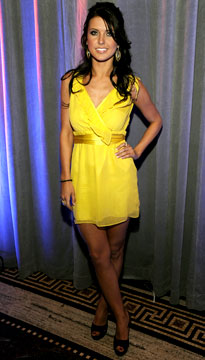 Kevin Mazur/WireImage.com
Audrina Patridge is planning a field trip from the Hollywood Hills to a Hollywood set.
The MTV reality star has hired a new agent and has quickly begun negotiations for her first movie role.
"We only just started working with her, but are already in talks for a feature film," Patridge's new rep, Jonathan Perry of Agency for Performing Arts, exclusively tells E! News.

Perry, who also represents Alyson Hannigan, Gina Gershon and the Kardashian clan, has big plans for The Hills star.
"She wants to do other things besides stay in that reality space," says Perry. "We are going to be getting her some television roles outside of The Hills, if they allow it. A lot of it is going to depend on what The Hills will be signing off on."
Patridge tapped Perry to energize her career after firing her previous agents at UTA, which still reps Hills cohort Lauren Conrad. (Patridge is still with her longtime manager, Gladys Gonzalez.)
"Audrina is interested in a lot of things, and I know she wants to get more involved with the Hollywood community on many levels," adds Perry. "We just started working with her a week ago. Our job is to create opportunity for her."